Mommy makeover surgery focuses on reviving your youthful female silhouette. What forms the female silhouette? First, it is the naturally beautiful curves of the female body that one observes when looking from the front as well as from the side. Secondly, from the front view, it is characterized by the hourglass shape which refers to a narrow waistline and thighs juxtaposed by a fuller hip region. Finally, on the lateral profile view, it is described by generous, perky breasts that are balanced by a full buttocks region juxtaposed by a narrow waistline.
Moreover, these are the curves that make you irresistible to men, and these attributes motivate designers to make women's clothes. As a result, it is not surprising to consider that as plastic surgeons, patients ask us daily to assist with reviving the female silhouette. The typical candidate will come to our office after having had her last child and now desires to revive her youthful breast, body, and buttocks contour in a mommy makeover procedure. Dr. Mowlavi designed the mommy makeover paradigm to allow prospective moms to appreciate the contouring options available.
The HD Mommy Makeover Paradigm
Breasts
Breast Augmentation
Breast Lift
Implant Augmentation and Breast Lift
Tummy
Liposuction
Mini tummy tuck
Full tummy tuck
Extended tummy tuck
Buttocks
Fat transfer (Brazilian Buttocks Lift)
Buttocks implant
Buttocks Tuck
Medial thighs
Liposuction
Medial thigh tuck
Lateral thighs
Liposuction
Lateral thigh tuck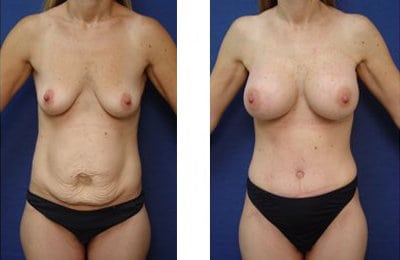 Bilateral breast augmentation and full tummy tuck and ventral and umbilical hernia repair after a mommy makeover procedure.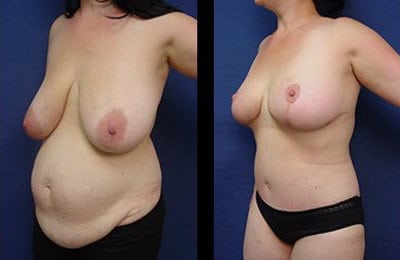 A bilateral breast lift and full tummy tuck after a mommy makeover procedure.
Any of the above surgical plans or a combination will then be tailored to your specific needs. During your initial consultation, you will have the opportunity to describe to Dr. Mowlavi which areas are keeping you from getting the body you desire. Dr. Mowlavi will provide an HDL Body Scale score and use that to personalize your mommy makeover paradigm. Your female silhouette is only a surgery away!