Factors determining liposuction recovery
Areas of liposuction
Volume of liposuction
Simultaneous Tucking Procedure
Internal healing capacity
Areas of Liposuction
In general, the more invasive and more complex or involved the procedure, the longer the recovery expected. This is related to the number of areas that are being liposuctioned which can include one or more of the following: neck, arms, axilla, breast, abdomen, pubic region, flanks, upper back, middle back, lower back, buttocks, lateral thighs, medial thighs, and even the calves. This female patient underwent circumferential VASER high definition liposuction and recovered with no contour irregularities.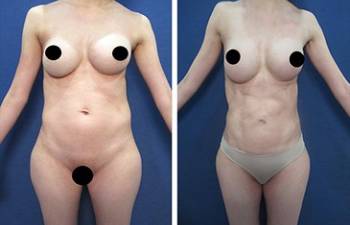 Volume of Liposuction
Another consideration is the size of the patient. The higher the Body Mass Index, the larger the patient and subsequently the higher the volume of liposuction required. For patients requiring liposuction alone, Dr. Laguna limits the recovery period to one to two weeks, after which patients are typically expected to return to the gym by two weeks regardless of the number of areas or total liposuction volume. Please notice the difference in liposuction volume for the patients below who had the same post-operative recovery time.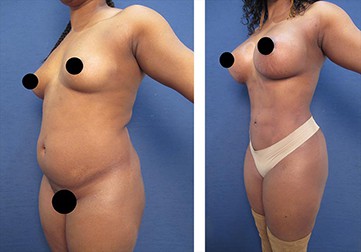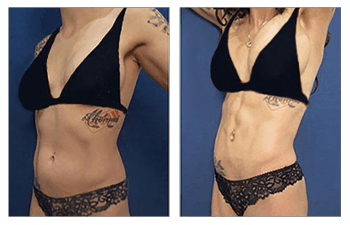 Simultaneous Tucking Procedure
For patients requiring a simultaneous tucking procedure, liposuction recovery can be more prolonged. These may include reverse tummy tuck, mini tuck, arm tuck, upper body lift, lower body lift, and medial thigh tuck.
These procedures do require a longer incision line which then delays your liposuction recovery by virtue of needing an incision line to heal prior to becoming physically active. Moreover, the reason for this delay is that bacteria live on our skin and an infection can occur if the bacteria are able to penetrate the incision line and get inside the body.
Additionally, a longer incision intuitively increases the potential for the bacteria to get in, especially with sweating. Patients who undergo simultaneous liposuction and tucking procedures may then return to physical activity at the three to four-week postoperative period.
A female patient underwent a simultaneous mini tummy tuck during her HD liposuction procedure. The patient was fully active three weeks after her surgery and her incision fully healed with no issue.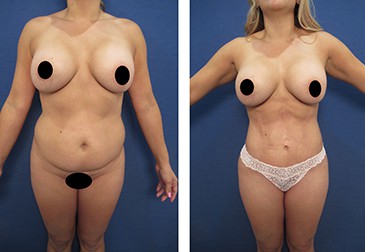 Female patient that underwent a simultaneous mini tummy tuck during her HD liposuction procedure. Patient was fully active three weeks after her surgery and her incision fully healed with no issue.
Internal Healing Capacity as Part of Liposuction Recovery
Finally, every patient has an internal healing capacity; some patients heal immediately in a matter of days and others require several weeks. This is related to your overall health, your healing capacity dictated by your protein intake, your pain threshold, and overall motivation to get back to normal routine activity.
I have observed a liposuction patient who was a surgeon return to the operating room as soon as 4 days following his surgery and yet observed another male patient who required three weeks and lots of encouragement prior to returning to his normal routine. Both patients had similar procedures performed, yet they experienced drastically different liposuction recoveries.
We do optimize several aspects of your healing capacity prior to surgery by checking your blood for red blood cell levels and even protein levels. Doctors may recommend that patients take iron if their blood count is low as well as put them on a protein shake supplement between meals if your protein levels are sub-optimal. We implement these preparatory interventions up to one month prior to surgery to ensure a safe and quick liposuction recovery. For more information, book a complimentary consultation today.
REQUEST YOUR FREE CONSULTATION from Internationally Renowned Plastic Surgeon and Brazilian Buttock Lift Expert, Dr. Arian Mowlavi
Laguna Beach – Orange County, CA