What is the ideal buttocks projection and how do you get it?
As a specialist in buttocks enhancement, I have been placing buttocks implants and performing Brazilian Buttocks Lifts, i.e. fat grafting, for over 10 years. I have observed that the desired buttocks projection in females has been gradually increasing over the last 10 years. The ratio illustrated below best defines the buttocks projection.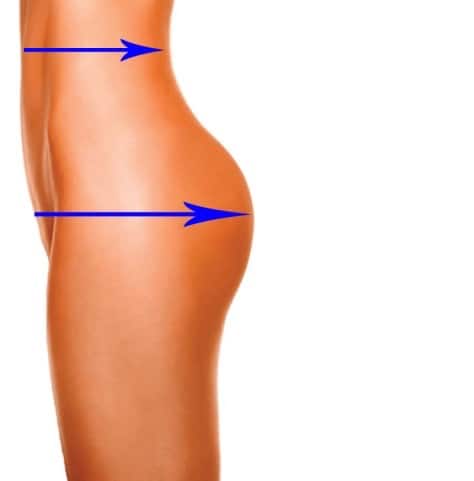 An article in the Journal of the American Society of Plastic Surgery has published the ideal buttocks to waist ratio. The authors asked over 1000 surveyors in Riverside, CA to choose their ideal waist to buttocks projection ratio; their consensus was that the 0.70 ratio was most desirable.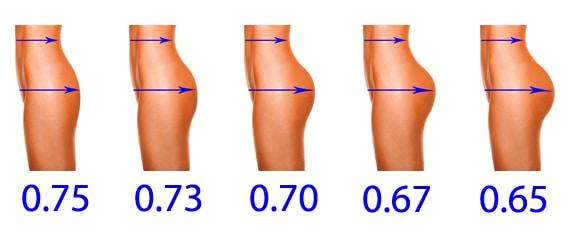 Although this finding is reasonable and seems to be aesthetically pleasing, it is very interesting that many patients at our office in Newport Beach, CA are desiring more exaggerated buttock projection ratios of 0.67 to 0.65. This might be influenced by a trendier, more metro urban populations of Los Angeles and Orange County. You do have to remind yourself that our infamous resident, Kim Kardashian, who displays her buttock projection in this published photo of her pouring champagne into a glass sitting on her buttocks influences people's opinions both locally as well as nationally.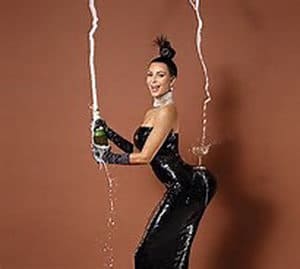 Since her emergence, buttocks enhancement has definitely become a more mainstay and popular cosmetic surgery procedure. In order to determine if you could take advantage of this affordable procedure, please schedule a complimentary consultation with Dr. Mowlavi.
SEE ALSO: Calculate your ideal buttocks procedure
Learn more about Buttocks Augmentation Clarified